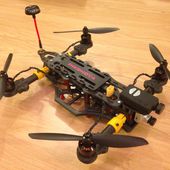 Un drone imprimé en 3D avec du filament carbone ColorFabb
En début d'année, le fournisseur hollandais ColorFabb dévoilait un tout nouveau filament à base de fibre de carbone (20%) baptisé XT-CF20. Fruit d'une collaboration avec Eastman Chemical, ce m...
http://www.lesimprimantes3d.fr/drone-racer-carbone-colorfabb/
TILT, a new generation of mini quadcopter racers: they are FAST, they are FURIOUS. Equipped with a dynamic tilting arms system governed by the flight controller: greater acceleration and speed ...